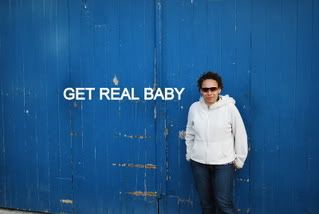 Well, its about time I did a "Get Real Baby" challenge care of the awesome Lusi Austin.
Well, actually, I'm not doing her exact challenge for this week, but I AM getting real, and that's what its all about, right??
So, REALLY, right now, I am NOT a superMum. I am NOT really coping with my too-busy life right now, and I have some HUGE decisions to make in the next few weeks.
Really, my house looks like a bomb hit. There are clothes half-folded all over the lounge. There are dishes in the kitchen (and that's after we've already done a load of dishes tonight). My toilet and bathroom need a clean. The boys sheets haven't been changed in too long.
And that's pretty normal.
Really, I don't spend enough quality time with my kids.
Really, I NEED to spend some more time with my eldest who's really struggling at school atm.
Really, I don't spend anywhere near enough time with my Creator. I want to though.
So REALLY, there's LOTS going through my head right now. Over the last couple of weeks, I've felt the Lord talking to me about what He's called me to. I don't think He's really called me to be stressed out, messy and angry... do you?
I'm reading a really inspiring book right now that the gorgeous Lusi gave me (thanks mate!). It's called 'The Most Important Place on Earth - what a Christian Home looks like, and how to build one"... and God's been using it to speak to me. There are LOT of things that SHOULD be in my 'Christian' home that just aren't. In fact, it probably doesn't look or feel like a Christian home if you popped in. AND I DON'T WANT IT TO BE THAT WAY. So yeah, God's been speaking to me about what's REALLY important...? And its my family. He's called me to be His child, first of all. He's called me to be a wife and a mother. And all the other things should come AFTER that.
I am very blessed that I don't HAVE to work for us to live. We don't have a mortgage, and quite frankly, we'd rather not and not be under financial strain. We'd rather live, than only live/work to pay off a home loan. We know that God will provide us with that when and where its in His Timing. Greg has started his new job today and has a nice pay-rise, so we'd be quite comfortable for me to be at home... so it's REALLY go me thinking.... and thinking... and thinking.... and praying.... but I need to do a bit more of that...
After visiting with Lusi, I know God used being in her home, with her family to speak to me about this too... her home is beautiful, loving, her family are God-fearing. Mine isn't so much. Now, I'm not comparing myself to her, in a woe-is-me way or anything, but in a 'maybe it doesn't have to be like this' way. Its all good.
And now, I've also just read part of Psalm 128 on Lusi's blog too, which says "your wife will be like a fruitful vine planted within your house"... and boy does that say something. I'm not being fruitful in my house at all right now. 'Happy wife, happy home?'.... 'stressed out wife, stressed out home', is more like it...
So yeah, getting real here. And in reading over this, it seems quite obvious what I should do hey. But its a pretty huge decision, so I'm going to sit and pray on it a bit more. But the desire is there.
There are a few things I'm worried about though. One being that I really struggle being home with Eli and Lani. They are really full-on. I guess taking them to kindy is the easy way out though. So yeah, that's one thing I need to tackle head on. I guess, really, its about being determined to be a good Mum. To actually DO things with them, take them out... stay OFF the computer.
I'm also a little scared of talking to my boss.... but that's the non-confrontational side of me. I hate confrontation. Just gotta suck it up hey!
I was thinking of asking to drop my days, but more and more, I think I want to stop altogether. Maybe that's not the wisest 'career' move... but who really cares about my career when I only get a few precious years with my babies, and they'll be in school.... I can work then, right??
Anyway, enough ramble. I'm just writing all the things that are going through my head really.
But being real.
Yeah, real.
Well, that's my heart right now anyway.
Please uphold me in your prayers if you're the praying type. It's a huge thing for me. And our family.
Signing out... N xx